Scarborough Charter
Building Black Inclusion and Fighting Anti-Black Racism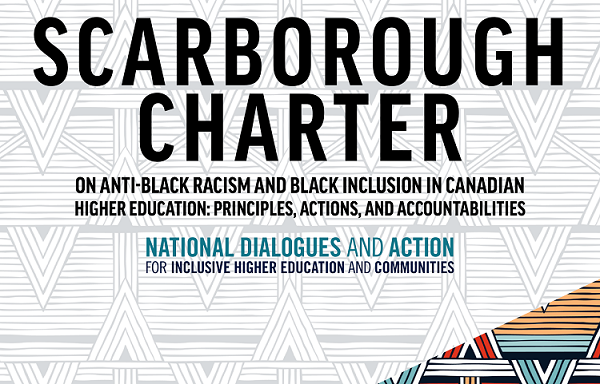 In the fall of 2020, Canadian universities and colleges from across Canada engaged in a national conversation co-creating significant and tangible actions that would address equity and inclusion in Canadian post-secondary education. These national dialogues focused heavily on anti-Black racism and strategies aimed at increasing Black inclusion in Canadian higher education. Additionally, discussions were centered on designing a concrete plan to meet these aims, a plan that was developed mutually and authentically through the engagement of a number of partner institutions.
The result of these conversations was the creation of the Scarborough Charter on Anti-Black Racism and Black Inclusion in Canadian Higher Education: Principles, Actions and Accountabilities. This document supports and commits to building and sustaining a culture committed to fighting anti-Black racism and supporting Black inclusion in Canadian higher education.
In November 2021, the University of Saskatchewan, along with more than 40 partner institutions across the country, signed the Scarborough Charter.
Resources and Initiatives
A positive space for the black community of Saskatoon, and their allies. A space to communicate, plan, and support one another.
Black in Saskatchewan
Founded in 2020, Black in Saskatchewan is a youth-led community organization created to contribute to the holistic growth of the Black community in Saskatchewan by addressing systemic issues, connecting members to various networks, and educating on Black experiences.
Black History Month Saskatchewan at Persephone Theatre
Black History Month Saskatchewan is a two-day festival which is a celebration of diversity through performance that celebrates performers and artists in the Black community in Saskatchewan.  
Events hosted by the College of Medicine
The College of Medicine, along with the Department of Community Health and Epidemiology and the College of Medicine Grad Students Society are hosting events throughout the month of February 2023. Check the College of Medicine events calendar for details and registration information.
Why We Need a Black Medical Students Association at USask by Ashley Tshala
One of the things I love most about being in Medicine is the moment you open the exam room door to reveal whose waiting behind it. The anticipation of getting to meet and help someone new. To have an impact on someone's life, whether it be in a small way or long-lasting.
MyMD blog - The Importance of Representation and Community-Building
by Vivian Murungi
As a Black medical student in Saskatchewan, Vivian Murungi reflects on her experience navigating the daily nuances of the health care system and the intersectionality of race, gender, and class.
The Saskatchewan African Canadian Heritage Museum Inc. is a provincial organization whose primary purpose is to celebrate, explore, research, document and preserve the history, heritage and contributions of people of African ancestry.
Remai Modern Exhibit - "In the Middle of Everywhere: Artists on the Great Plains"
The Remai Modern art gallery in Saskatoon is showcasing an exhibit featuring art installations focused on tracing the physical, social and psychological contours of the Great Plains. Some of the featured artists are members of the Black community showcasing their experiences and interpretations of life on the Great Plains in Saskatchewan.
USask University Library Resource Guide
This guide is dedicated to Black History Month and highlights the resources offered at the library that focus on the accomplishments and experiences of the Black community. In this guide, we invite you to read, watch, listen to, participate in, or actively learn more about why this month is so important.
USSU Pride Centre
Resources and information for Black History Month will be posted to their Facebook, Instagram, and the USSU Centres' Discord server.
USSU Women's Centre
Resources and information for Black History Month will be posted to their 
Facebook
, 
Instagram
, 
Twitter
, and the 
USSU Centres' Discord server
.